Thursday, October 1, 2020




7:00 pm EDT - 9:00 pm EDT
We're sorry, but all tickets sales have ended because the event is expired.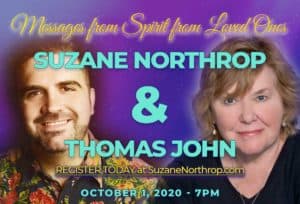 Enjoy this special 2 hour virtual event with Mediums Suzane Northrop and Thomas John. During this online event BOTH Suzane and Thomas will deliver messages from Spirit from Loved Ones to as many online attendees as they can.  Whether you or someone else receive a message, it is amazing to witness both Suzane and Thomas channeling and delivering messages from spirits from the Other Side. There will also be a Q&A at the end of the event where Both Suzane and Thomas will answer questions from attendees.
Many ask us if a virtual readings is still possible even though the readers cannot see me? Simple answer yes! Doesn't matter whether Suzane and Thomas see's you or not, they meditate before the event and begins receiving messages energetically and vibrationally to be able to deliver messages to those in attendance.
How this works:
You will receive a log in from our office the day of the online event as well as with your purchase confirmation.
The log-in will contain information on how to log in through your cell phone, landline and/or computer device.
You will be able to see and hear both Suzane & Thomas live on screen, but will not be seeing other attendees.
There will be a chat room where you can message Thomas and Suzane ( along with a office moderator) and the other attendees.
When being read Suzane & Thomas will unmute you and provide you with his messages!
You will also receive a recording of this event a few days after the event
Please keep in mind that purchase of ticket to this event does NOT guarantee that you will receive reading.
Thomas John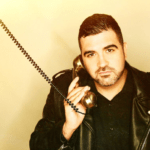 Thomas John is a global psychic sensation who has impressed audiences with his accurate messages from the Other Side & is constantly in high demand with influencers and those at crossroads in their life.  Thomas has also been a trusted advisor to celebrities around the country, including Courteney Cox, Sara Gilbert and Goldie Hawn. Thomas also aired his first television show: Seatbelt Psychic on Lifetime (2018) & his first novel, Never Argue with a Dead Person: True and Unbelievable Stories from the Other Side, was published in 2015. In recent years, his infallible track record and down-to-earth approach has lead him to being known as one of the world's top psychics.
Suzane Northrop
For over 30 years, Suzane Northrop–an internationally acclaimed medium, grief & bereavement expert, TV and radio host, and author of three books to date–has helped thousands of people worldwide to recover and heal from the loss of loved ones. Suzane does so by bridging the gap between the world of the living and the world of Spirit.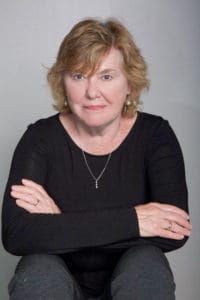 In addition to her two top selling books–Everything Happens for a Reason (now published in four languages), and Second Chance: Healing Messages from the Afterlife, Suzane has also broken new ground with, A Medium's Cookbook: Recipes for the Soul. In this, her latest book, Suzane shares tips and tools for tapping into your own power to connect with departed loved ones.
The Suzane Northrop Radio Show continues to reach new and amazed audiences every month on the Blog Talk Radio Network. In the HBO special, Life Afterlife, Suzane and other mediums were tested by Dr. Gary Schwartz, and it was Suzane who scored the highest accuracy rate. The Emmy-nominated TV series, The Afterlife, has captured the imagination and hearts of millions in both the U.S. and Canada by demonstrating Suzane's superior talent as a Medium. She has worked with organizations such as The Afterlife Awareness Conference, COPE (Connecting Our Paths Eternally), The American Foundation For Suicide, and Helping Parents Heal. Suzane is also on faculty at The Omega Institute for Holistic Studies, and has collaborated with practitioners from Pacific Pearl of La Jolla.  She has made, and continues to make, a profound impact on those who experience her work.
In addition to developing and running hundreds of workshops and seminars, Suzane continues to provide private and group readings for those who want more intimate settings.
Further, Suzane has served as an expert consultant to numerous investigative agencies including police departments in New York City, Washington D.C., Hartford Connecticut, and Los Angeles. Following the attacks on September 11, 2001, Suzane provided grief counseling for 9/11 survivors and family members in NYC.
Currently, Suzane continues to lecture and consult, writes and publishes a free monthly newsletter, and hosts her own radio show with notable guests each month. Suzane is working on her new book, developing television projects and podcasts.
*** Purchase to this event does NOT guarantee that you will receive a message during the reading.
No refunds/All sales are final
Our online events are held in the Eastern Time Zone – New York.