Tuesday, April 12, 2022




7:00 pm EDT - 8:30 pm EDT
We're sorry, but all tickets sales have ended because the event is expired.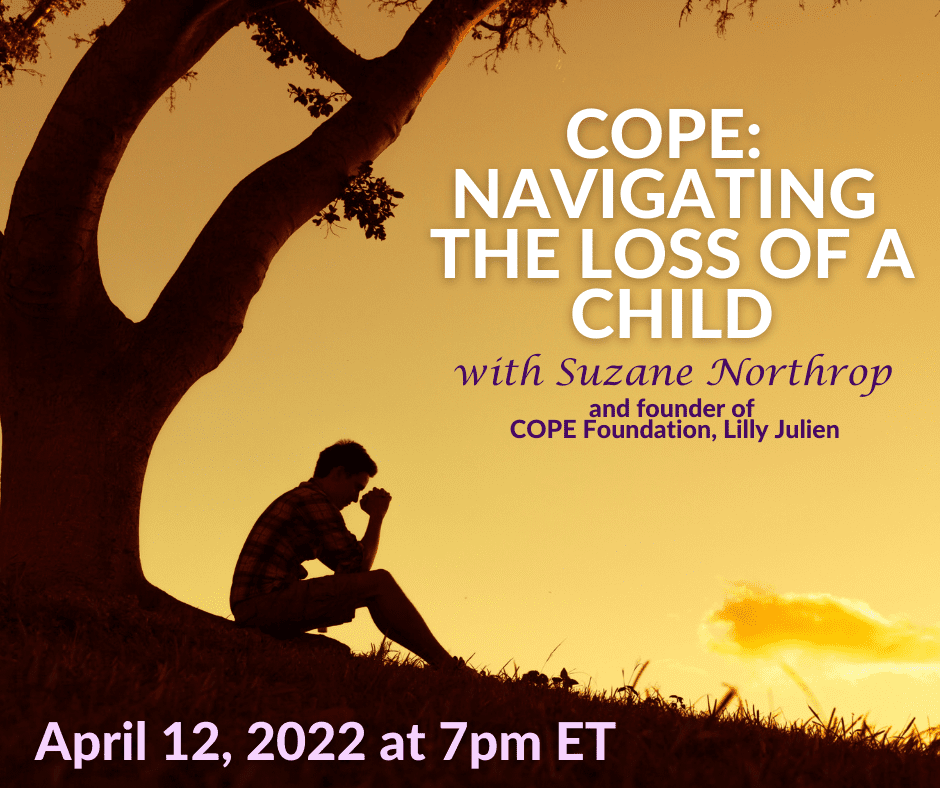 A webinar for anyone who has lost a child, whether you are a parent, sister, or friend. 
In this webinar, Suzane's special guest will be Lilly
Julien,
the founder of COPE.
Lilly will share her vision that inspired COPE, (an acronym for Connecting Our Paths Eternally) and has been her ongoing source of inspiration. Ironically, it was in the process of building COPE, and connecting with other parents who had lost a child, that she too found healing.
Lilly will share what she's learned over the past twenty-three years of COPE:
By helping others, I helped myself.
By dedicating myself to building something in my child's name, I helped myself.
By staying connected and recreating my relationship with my daughter, I helped myself.
A must webinar for anyone who needs the message.  It will be an evening of sharing and Suzane will give messages to attendees.  Although not everyone will receive a message, all messages will connect to all attendees.
In 1992, Lilly lost her 20-year-old daughter, Michelle, in a tragically in a car accident. In the midst of her grief, her daughter came to her in a dream and said, " I'm okay, Mommy. You're the ones who aren't okay and you need to reach out and help each other."
Lilly woke with a vision of grieving parents and siblings coming together for emotional support.  Lilly will share all the wonderful work of COPE.   A must for anyone who has lost a child whether you be a mom, sister, grandparent.